Getting to Know Dr. Ivankiv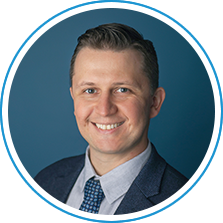 Roman Ivankiv, DPM
Q: What made you decide that a career in podiatry was the choice for you?
A: "I have always known I wanted to pursue a career in medicine. Most of my family is in the medical field so I naturally gravitated towards it. It was not until late in college that I discovered the field of podiatry when I received a brochure from a podiatry school explaining the field. I decided I needed to explore this more and was able to find a great mentor, Dr. Johnson, who I was able to shadow. I was drawn to this field because it offers an ability to create a distinctive and holistic relationship with patients that is different from other healthcare fields".
Q: What are some of the reasons that make you most enjoy being a podiatrist?
A: "The diversity of the field, the patient interaction and seeing patients leave the office pain-free".
Q: When not practicing medicine, what are your favorite hobbies?
A: "I enjoy working out, barbecuing, spending time at the beach and spending time with my friends and my family".
Dr. Ivankiv is now available to see new patients at both our St. Augustine and our Palatka locations. We look forward to seeing you.