Fascinating Facts About Children's Feet
Tuesday, 19 September 2023 00:00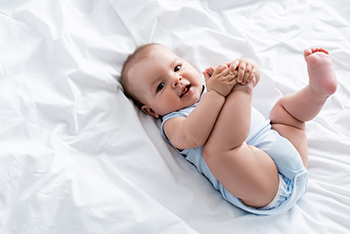 Children's feet are remarkable in their growth and development. Understanding the unique aspects of pediatric foot health can help parents and caregivers provide better care and support for their little ones. Babies are born with a soft and pliable structure in the foot called cartilage, which gradually ossifies into bones, and this process continues into late adolescence. Infants have a naturally wide and flat foot arch that develops into a more pronounced arch as they grow and their muscles strengthen. Additionally, children's feet contain approximately 200,000 sweat glands, which can make them more prone to odor and fungal infections. It is important to note that children often experience rapid growth spurts, and this can require frequent shoe replacements. Wearing ill-fitting shoes can result in foot problems, so regular foot measurements are crucial. Children's feet are a marvel of nature, constantly evolving as they mature. Paying attention to their unique characteristics and addressing issues early can promote healthy foot development and overall well-being. If you would like more information about specific details about children's feet, it is suggested that you consult with a podiatrist.
The health of a child's feet is vital to their overall well-being. If you have any questions regarding foot health, contact one of our podiatrists of Coastal Foot & Ankle Wellness Center, LLC. Our doctors can provide the care you need to keep you pain-free and on your feet.
Tips for Keeping Children's Feet Healthy
Make sure their shoes fit properly
Look for any signs of in-toeing or out-toeing
Check to see if they have Clubfoot (condition that affects your child's foot and ankle, twisting the heel and toes inward) which is one of the most common nonmajor birth defects.
Lightly cover your baby's feet (Tight covers may keep your baby from moving their feet freely, and could prevent normal development)
Allow your toddler to go shoeless (Shoes can be restricting for a young child's foot)
Cut toenails straight across to avoid ingrown toenails
Keep your child's foot clean and dry
Cover cuts and scrapes. Wash any scratches with soap and water and cover them with a bandage until they've healed.
If you have any questions, please feel free to contact one of our offices located in St. Augustine, and Palatka, FL . We offer the newest diagnostic and treatment technologies for all your foot care needs.
Read more about How to Care for Your Child's Feet